Escape From Alcatraz was originally presented by Manx at the National Puzzlers' League convention in San Francisco on July 15, 2000.
The game was designed to be played in teams of solvers with moderators to hand out keys, tools, maps, and puzzles in response to completed puzzles. While this doesn't work well at home, you can still try the puzzles.
Download Escape From Alcatraz
Escape From Alcatraz is available in PDF format.
You'll need Acrobat Reader to view the PDF file. You can download a free copy from Adobe.
Get Hints and Answers
Need a hint or an answer? Write to Manx.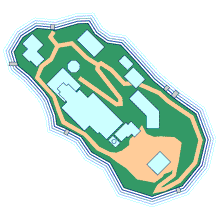 ©2000 by Mike Shenk